Job Oriented English Speaking Course
Special English Speaking Classes for all Age Groups
Best English Speaking Course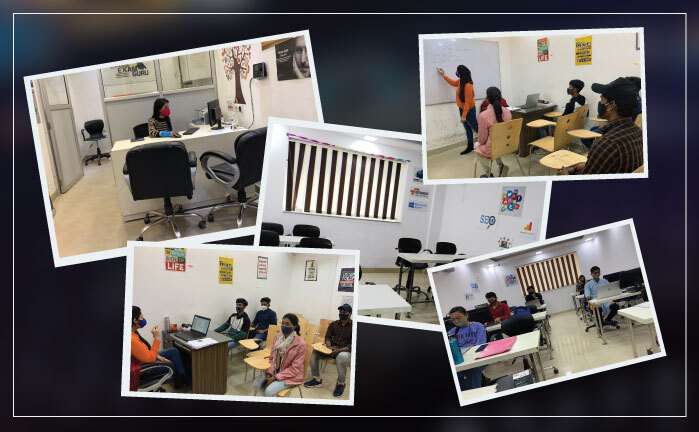 Why an English Speaking Course?
Do you feel nervous while speaking in English?
Lack of confidence while conveying your thoughts?
Learning in a regional language acting as a barrier?
Do you feel embarrassed in front of your colleagues?
Do you feel shy while having a conversation?
Lack of exposure during recent years?
Lack of a good vocabulary?
Incorrect Grammar acting as a barrier?
If any of the above is true, then take a One Trial Class Challenge and see the difference.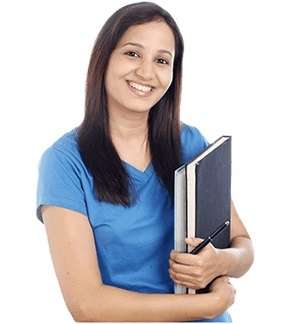 Why choose English Ninjas?
The most important thing: You'll get what you paid for!
We at English Ninjas realized that there are Employers who are looking to hire and there are Job Seekers who wish to work, yet there is unemployment. We observed a lack of Soft Skills to be the gap and aim to bridge this gap with our Job Oriented English Speaking Courses.
We have 10+ years of experience in Soft Skills Training.
Our Teachers are passionate to teach.
You'll be more confident every single day than a day before while learning from English Ninjas.
Pocket-friendly courses for everyone.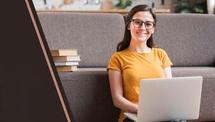 English Grammar Foundation Course
Duration: 30 days
---
✔ Grammar Foundation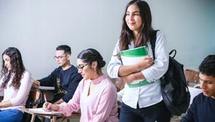 Basic English Speaking Course
Duration: 40 days
---
✔ Grammar
✔ Spoken English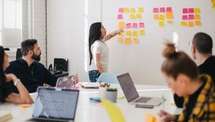 Smart English Speaking Course
Duration: 60 days
---
✔ Grammar
✔ Spoken English
✔ English Speaking Activities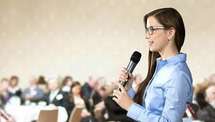 Executive English Speaking Course
Duration: 75 days
---
✔ Grammar
✔ Spoken English
✔ English Speaking Activities
✔ Personality Development
Course Fees
Rs. 4,499 to Rs. 8,999
(based on Pre-Assessment Test)
Course Duration
24-48 Sessions of 1 hour each
Class Timings
Multiple slots available between 8 am to 7 pm IST
Step-1: Pre-Assessment Test (basic English Test)
Step-2: Demo Class
Step-3: Enrolment & Registration
Step-4: Class & Study Material Access
Ace your Interviews with Clear Communication in English
Pillars of English Learning
1) Listening: Giving one's attention to the sounds: Understanding, Interpreting, Implementing.
2) Speaking: Expressing one's feeling in speech: Expression, Presentation, Self-Representation.
3) Reading: The action or skill of reading: Speed, Accuracy, Passion.
4) Writing: The activity or skill of writing: Speed, Presentation, Exploration.
Build Basic Grammar
Communicate Confidently
Speak With Fluency
Pronounce Like A Pro
Enhance Reading Skills

Update and Upgrade Personality

Vocabulary Building through Activities

Be Interview Ready
What our students say about us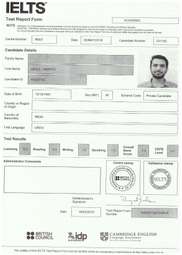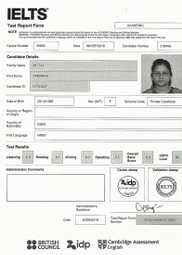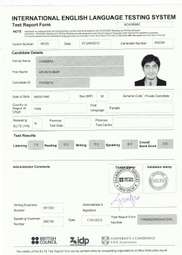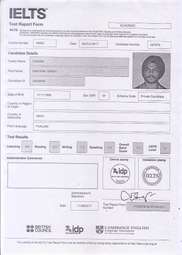 Basic English Speaking Course
"My friend recommended me this institute for English Speaking Course. A great investment for English Speaking. Dedicated faculties and individual focus to each student is what makes it better than others."
Acquire English language skills for life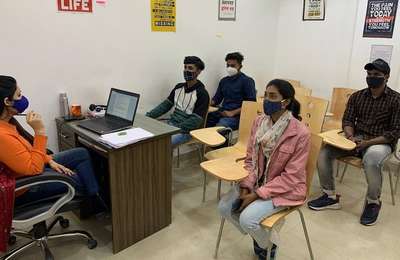 Add a spark to your personality and take a leap towards the next stage of your career with English Ninjas' English Speaking classes. 
This course encompasses basic but crucial grammatical concepts, powerful public speaking skills, correct pronunciation & precise vocabulary along with the overall grooming of the personality.
Gain confidence to interact in public.

Learn with personalized attention in class.

Open Q&A sessions at the end of each class.

Crack any interview with ease.
Learn correct pronunciation and speak with conviction.

Increase your vocabulary for better interactions

Add charisma to your personality and impress others.

Improve reading skills and understanding abilities.
Our Classroom has a very unique approach so that any student can be learning either via a live lesson, pre programmed lesson, independently or being supervised in the classroom.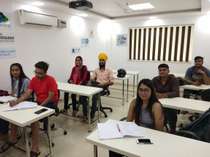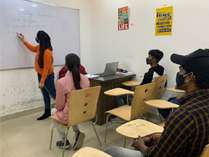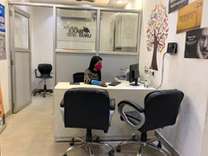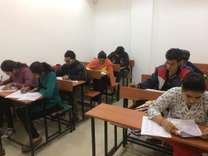 Why English Speaking Course?
Since good verbal communication has become very important for the professional lives of people, we aim to improve the English Speaking and Communication Skills of people so that they get better Job Opportunities and do not have to compromise at any level due to lack of skills.
English Ninjas is one of the Best Training Institutes for English Speaking Courses.
We provide offline English Speaking Courses in Delhi and online English Speaking Courses nationally and globally.
We have trained students from India, Bangladesh, Sri Lanka, the Philippines, Indonesia, Malasia, and several other countries and have provided them with the Best English Speaking Classes.

Ayush Nag
"Earlier I used to fumble a lot and most of the time I used to keep quiet in front of my colleagues, due to my native Punjabi language I am fluent in. I must say the institute has done a great job for my communication skills."

Rohin Malhotra
"If you really want to learn English, English Ninjas is a perfect place. Each and every concept is explained in a logical manner thus helping students learn English in a much better way."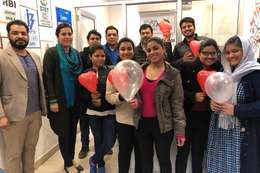 Here are the key stakeholders focused on building our community. Our greatest strength is our team's spirit & that will remain because a core of us come through the leagues together. 
What people frequently ask
Can we start from absolute beginning?
Yes, we have special batches where you can start from absolute beginning
What is the Fees Structure?
Course fees ranges from Rs 4,499 to Rs 8,999 depending upon the Course
Age Limit
There is no upper or lower age limit.
What are the payment options?
You can make your payment through Net Banking, Debit Card, Credit Card, UPI, etc.